Compass celebrates 20 Years with a heartfelt Country Shindig and a one-of-a-kind Photo Exhibition
Celebrating 20 years of changing lives on a daily basis, The Compass Institute Inc put on the party of the year with their 20th Birthday Compass Shindig, which included local singing sensation Taylor Moss headlining the event.
In true Compass style, at Venue 114, their 20-year journey was celebrated with a grass-roots, authentic, feel-good country music extravaganza, which showcased some of the talented Compass Trainees in their country best and a cracking whip cracker, literally. The event acted as a major fundraiser for Compass, who are about to embark on a new Masterplan for their Hunchy Farm, bringing more opportunity and services to those that Compass supports. Thanks to the incredible support of over 320 attendees on the day, Compass was able to raise almost $100,000 to go towards building these greater facilities and opportunities for trainees today and into the future.
As an added bonus, attendees were provided with an exclusive first look at Compass' exciting new campaign – a one-of-a-kind photo exhibition, launched in conjunction with the 20-year anniversary, called See the Able, Not the Label.  These images that were unveiled for the first time on Friday, showcase a selection of Compass Trainees in stunning portraits alongside their heartfelt stories of transformation and growth, and aims to inspire others to drop labels and commonly held misconceptions of people with intellectual disabilities.
You can now view these incredible images and read the stories at www.seeme.org.au.
Sandra Brodie, Head of Business and Growth at the Compass Institute, says, "For me, getting to personally know each individual, their families and their incredible journeys of strength, courage and perseverance has been an absolute honour and an experience that will remain with me forever. They all have incredible journeys and I've learned so much by listening and know that stories like these will also touch many other people's lives in the community".
Of course, this event would not have been the success it was without the help of some of the amazing supporters and partners of Compass.
A special thank you goes out to Compass' now 10-year Corporate Partners – and friends – Cricks Sunshine Coast.
Cricks were the presenting partner for the 20th Birthday Shindig but the relationship with Cricks goes far beyond this one event. They have supported the launch of new social enterprises, to gift assistance dogs to multiple local families in need, to provide essential transportation to our trainees, to connect Compass with new potential partners, to deliver exceptional fundraising events that help Compass deliver critical projects, and even to provide vocational and employment pathways beyond Compass for some of the trainees. The words Thank You don't even begin to express how truly grateful Compass is to have Cricks support the work to help so many people in the local community.
Also thank you to Gold Event Partners, NCP Bathroom Centre, Silver Event Partners AIB Australia, ENTAG and Queensland Timber Flooring, and our Event Collaborators White House International (who did an amazing job) and Media Partners at 91.1 Hot FM.
Further thank you to our prize sponsors, who provided some incredible experiences and prizes; See Restaurant, Paradise Rum, Sunshine & Sons, Harri Jones Racing and Porsche Motorsport Australia, Diamondvale Cottages Stanthorpe, Opals Down Under, Lauren Biggs Photography, Minor Hotels / Oak Resorts, Kokomo Cruises Gold Coast.
To all the event attendees who showed up and got behind the Compass cause, from purchasing tables, to raffles, to the special 'Shovel Drive' and of course engaging in the Live Auction, it is with humble and warm hearts that Compass says thank you.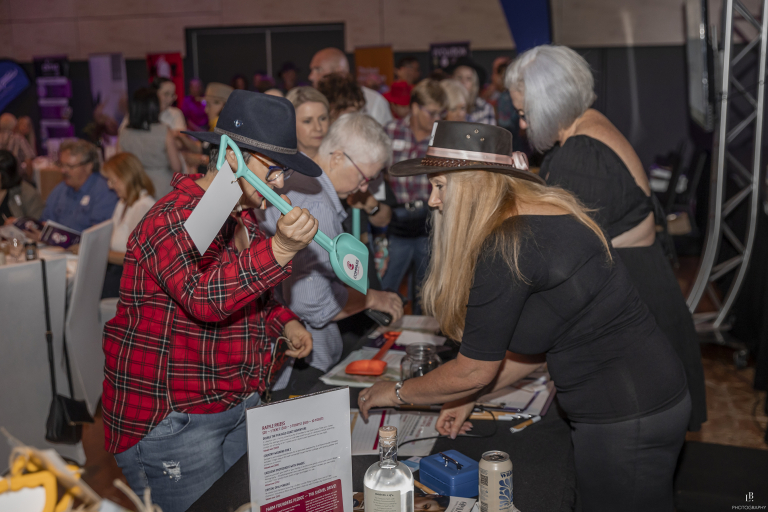 Lastly, no country shindig can go past a bit of toe tapping and boot scooting to the country tones of Taylor Moss, The Wet Whistles and Beth Lucas! The line dances and do-si-do's were out in force. Yee Haw!