How our Puppies Change Lives
Historically, due to government policy, Compass was unable to play a role in the lives of children with a disability until they completed their secondary education. This was challenging for us because early intervention is clearly such a powerful agency.
When we first discovered the ability of Assistance Dogs to powerfully change the lives of children with autism, we were exposed to countless true, life stories that took any ounce of doubt or scepticism away. The reality is, these beautiful creatures really can change the entire trajectory of a child's life. With this knowledge, Compass set out to establish our own program and we made it our mission to remove as many barriers as possible for the families in need – including a big one, cost!
Read the powerful stories below from some our Compass Assistance Dog recipients and their families to hear how their lives have been changed by one of these beautiful creatures. In the end 'seeing is believing', so we hope you get an opportunity to also witness the magic of an Assistance Dog and the extraordinary power they have to change lives forever.
Real Stories From Real Families
MEET ERIN AND AMORE*
Hi, my name is Erin…
I'm was born with Cohen Syndrome, autism and an intellectual disability which means my sight isn't very good, I fall down frequently, am very anxious and rarely sleep at night… all of which can be very difficult for my family as well as for me. Then a year ago Amore came into my life as a Compass Assistance Dog. Amore was a rescue dog and after one year of training he came to live especially with me when I was 6 years old.
This photo was taken by my Mum on his second night in our home. She cried and cried but this time from joy. Amore wears a special harness so I can hold him and walk a lot more. If I fall down he comforts me and then picks me up using the harness. I sleep soundly every night with Amore to look after me.
Other children talk with me now because they love Amore too and want to know all about him. Two weeks after Amore came to live with us we went on our first family outing in years to Sea World. I was able to walk with Amore and our whole family had a wonderful time.
When Compass gave Amore to us our whole world changed…
*Story provided by Erin's family
MEET JACOB AND DIESEL
There was a boy called Jacob, who was kind, funny, joyful and quiet.
Jacob loved and felt safe around animals. He would spend many hours in his room playing with his toy animals and keeping to himself because he found living in the world overwhelming.
Jacob's family and community did everything they could to help him live his best life. As hard as Jacob tried, he was still unable to do the things that other people could do. Even though everyone told him he was special and amazing, he felt sad and lonely.
Then one day, a man called Phil from the Compass Assistance Dogs Program called Jacob's mum and said he would like to introduce Jacob's family to Diesel… it was Love at first sight.
Jacob forgot about the world feeling overwhelming when Diesel joined his family and started doing things he'd never done before, like going grocery shopping, sitting at a café, going to the cinema and to the beach.
Jacob and his family are also sleeping now that Jacob's night terrors have stopped with Diesel by his side. He can have a full day at school because he has Diesel to come home to. And he feels comfortable talking to people about Diesel when he would usually be quiet.
Jacob now has a chance of living his best life now that he is able to engage with the world. Compass has given us an amazing gift and restored our hope. We are grateful from the very bottom of our hearts to everyone who has helped bring Diesel into our lives.
*Story provided by Jacob's family
"Diesel is my power for life." – Jacob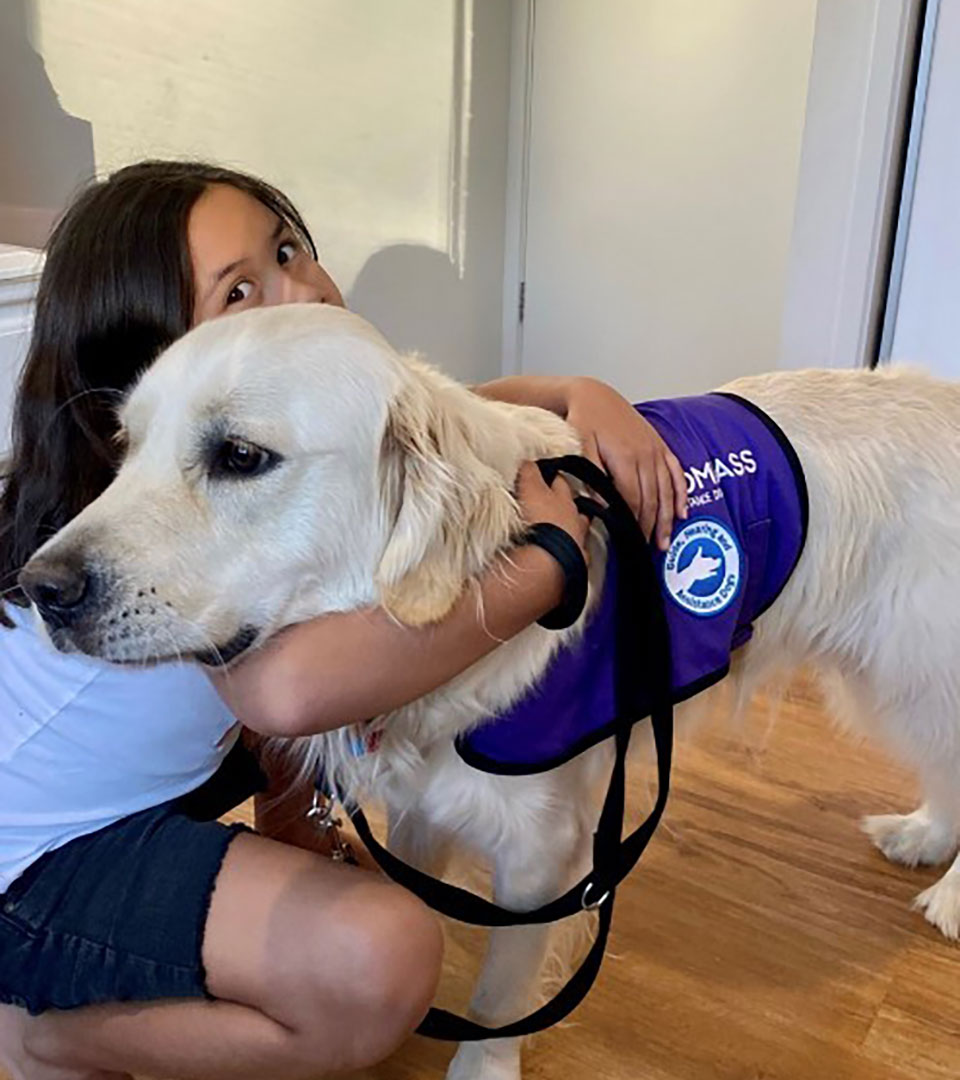 MEET SIENNA AND MAC*
We are so blessed to have Mac in our lives. He made a difference on the very first day we had him…
Our daughter Sienna became overwhelmed from school pickup. Thing escalated, resulting in Sienna having a meltdown in our van, which was both physical and emotional.
Beautiful Mac picked up on this straight away. He sat with Sienna and rested his head in her lap, and to our amazement, Sienna calmed down instantly, hugging him back and then laying with him on the floor of our van.
As meltdowns are very physically draining, Sienna was able to find calmness with Mac. He just layed with her. That was the fastest calm down we have ever had.
We are truly grateful to Phil, the Compass Team and especially the Sponsors who help make these angel dogs possible…
They truly make a difference in people's lives, in our lives.
Thank you.
*Story provided by Sienna's family
MEET SPENCER AND WATSON*
Maroochy RSL (who kindly sponsored Watson), Phil, Watson and Compass Assistance Dogs Program have changed our life. They have given us a second chance and Spencer a life worth living, and I will never ever be able to express how much this means to me. I will forever be in debt to these incredible people. Watson has become a life long companion or brother as Spencer calls him. Spencer is able to attend school daily now where as before he was on limited attendance. Watson goes everywhere Spencer goes. Spencer never slept through the night until we received Watson and had regular meltdowns, we are now having minimal meltdowns. We are just so grateful.
*Story provided by Spencer's mother