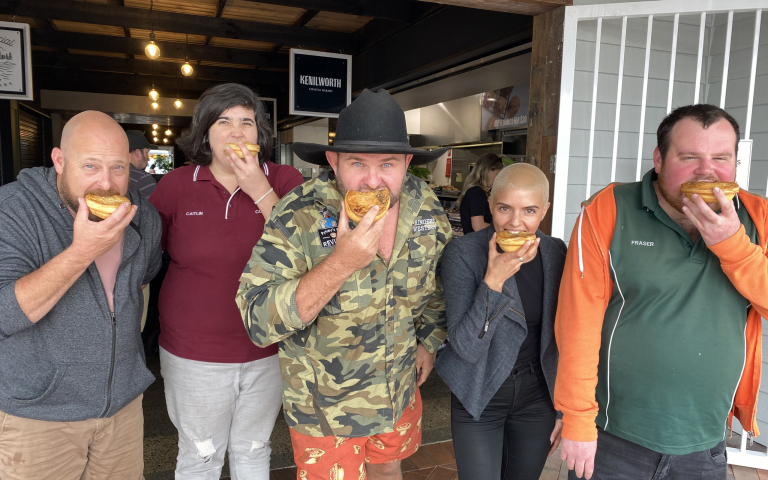 PYNEY'S PIE DAY PARTNERS WITH COMPASS TO TRANSFORM LOCAL LIVES
The second annual Pyney's Pie Day was held on Saturday September 3rd with a record number of bakeries across Australia participating to help raise funds for local charity Compass.
Pyney's Pie Day is the brainchild of Shaun Pyne, a former mortgage broker turned pie connoisseur and social media sensation whose social media site www.facebook.com/pyneyspiereviews regularly clocks up hundreds of thousands of views.
"Last year our inaugural Pyney's Pie Day raised over $50,000 to help fund DV and mental health programs and after participating in a Compass Golf Day last year and then seeing the incredible work they do with their trainees at their Palmwoods farm, I knew we could make a real difference.
"I'm thrilled to have 69 bakeries across Australia including 15 from Caloundra to Gympie committed to participate this Saturday with $1 from the sale of each pie going straight to Compass.  I'm encouraging everyone to get into their local participating outlets as we aim to raise $100,000 this year and my long term fundraising goal is to hit $1 million from a single day of selling pies," Shaun said.
Shaun and his wife have spent much of the past year travelling across Queensland and interstate, visiting small towns and supporting local bakeries by purchasing, eating, reviewing and promoting the humble pie and the town where they originate.
"Regional towns across Australia are doing it really tough and just like the local pub, family owned bakeries are the centrepiece of most towns but they are a dying breed. I'm keen to visit every pie shop in Australia to help promote tourism and the great pies from each town," he said.
Compass Head of Business and Growth Sandra Brodie said she was thrilled Compass was chosen to be this year's charity of choice for Pyney's Pie Day.
"We just love everything that Shaun is doing and to be the beneficiary of this year's fundraising is not only great for us financially, but it also helps raise awareness of the life changing work we undertake with all of our trainees.
"It's such a fun yet simple way to fundraise, there's a pie to suit almost every taste so it's easy for everyone to participate and it's really rewarding to know $1 from the sale of each pie goes direct to Compass," Sandra added.
Participating Sunshine Coast bakeries include:
Kenilworth Bakery – Kenilworth and Mooloolaba
Woombye Bakery
Maleny Bakery
The Pie Guy Maleny
The Yard/Beach Rd Coffee Co
Pomona Bakery
Peregian Bakery
The German Bakehouse at Coolum and Cooroy
The Bunker Smokehouse Gympie (doing Friday)
Noosa Outlook Bakery
Richies Bakery at Tewantin and Cooroy
Ricks Artisan Pies and Sourdough – Noosa
To find out more about this brilliant initiative and this full list of participating bakeries contributing to the cause,  visit https://www.transformalife.org.au/home