Campus & Enterprise Updates
Our campuses and enterprises are always so full of activity, learning and joy and these are the stories that we love to share with you.
It's been another busy quarter on the Compass Farm.
We started off July with the Nambour Show where we raffled off the infamous Chook Tractor. Kez and the Woodwork Team work on this all year to make sure it is absolutely perfect for Show Day. Tickets were sold at Nambour Show, and The Garden Show which raised $13,000 for the Farm to reinvest into our programs.
In August the Farm supported the local Hinterland Rangebow Festival. Trainee Dennis was invited to compete in Go Cart Racing to open the festival, with other local supporters and celebrities. Denis came first in his first qualifying round, and then 3rd in the final. It was such an exciting event! Well done to Denis!! Trainees were also invited to display some of their Artwork for sale in local cafes for purchase. Farm trainee Chris sold his Rainbow artwork for $100. Great Job Super Chris!!!
At the end of August, the Farm hosted a Team Building Event for North Coast Plumbing. As part of the event North Coast Plumbing donated new wheelbarrows, gloves, and over 100 new fruit trees for the Farm. The Harvest Kitchen Team put on a spit roast lunch will all the trimmings, while the Plumbing team helped plant all the trees. In the afternoon there was just enough time left for some fun and games, competing is a Farm Scavenger Hunt, and the Spaghetti and Marshmallow tower build, which was hilarious to watch. Thank you to North Coast Plumbing for their donations and support.
More recently in September, Farm trainees Bryn and Phoebe made friendship rocks for another huge supporter of Compass, AIB Insurance, for RUOK Day. Bryn and Phoebe painted each rock, gave them eyes, mouths and even their own names. They were stuck on a Compass Card with the message "Feeling sad or having a happy day? I am with you every step of the way…" Bryn and Phoebe then got to deliver morning tea to the AIB team, and hand out their individually created friends. Nice work girls!!!
Stay tuned to the Compass Facebook page as we head into Halloween and Christmas on the Farm!
Caloundra Teams have all been working hard on getting stock into Wabi Sabi for Christmas.
CTU delivered Christmas stock to Wabi Sabi Nambour and the Botanical Café, our group have been working hard on creating a new soap range and a coffee scrub bar using recycled coffee beans from Caloundra café's leftover coffee grinds! A new item added to our to our range is macramé key rings and lanyards made by CEU and plenty of Christmas decorations, tie dye items too. CEU visited the Botanical Gardens practicing their mapping skills using the Koala trail map.
We're pleased to welcome our new Team Leader Bec Jeffress.
"I've really enjoyed meeting our all of our wonderful Trainers and Trainees, families and carers. Everyone brings something special to the team and I look forward to being part of such an wonderful organisation."
We also welcome our new Trainee Rebecca who has joined our Monday program with ease. She has tried her hand at Aikido and this term is part of our Paddock to Plate (gardening to cooking program).
Compass Nambour hosted a stall in C-Square at the Wellbeing Mind Fair as part of Mental Health Week. Trainees enjoyed visiting stalls which included free items from local Op-Shops, stocking up on supplies like clothing and toiletries. Trainees also did some potting, planting and listened to live music. Visitors to our table were able to add a paint stamp to our Tree of Life poster and many people contributed.
We had enjoyed an outing to Cotton Tree for a day of games and barbecue; trainees were eager to challenge trainers to ruthless games of frisbee and handball.
Aikido Demonstration
At group 1's last Aikido session for the term, Trainee Natascha demonstrated the technique "Katate Aya Mochi Ikkajo Nage" for the group.
Our formidable Walking Warriors had set a target to cover 100km this year, and they've not only achieved it but exceeded it! They triumphantly reached their 100km milestone at the start of September during the Gruffalo walk at the Ginger Factory. We want to express our deep gratitude to Helen and Team, whose proactive organization and steadfast encouragement have played a pivotal role in guiding the Trainees to accomplish this extraordinary accomplishment.
The Palmwoods Lawn Bowls program has wrapped as the weather heats up, and we have switched to the swimming program. Thank you to all the volunteers at Palmwoods Bowls.
Our Health and Wellness program has commenced, with everyone is cooking up a storm and eating with produce we have collected from our garden at the farm. This has been a great way to learn more about healthy and balanced eating.
A massive thank you to Emity for competing in the Sunshine Coast Marathon. Emity donated her hard raised funds to the Nambour Compass Centre. A new oven and Blaze pods have been purchased. Watch this space for the amazing Blaze Pods!
HEART OF GOLD FESTIVAL TREE DECORATION
The trainees used their creative talent to decorate a tree in the main street to celebrate the upcoming Heart Of Gold Film Festival, along with many other local businesses. It's a great way for the community to come together to showcase their ingenuity with tree decoration and to support a local iconic institution.
FOCUS ON ABILITY FILM FESTIVAL
The team entered a short film into the Focus On Ability Film Festival, which the trainees starred and co-wrote. Even though the story was fictional, it was based loosely on the Sports Carnival, using footage from these years and previous years sports days.
The theme was 'Always help someone, because you might be the only one who does.'
The entry was accepted by the judges and is going to be shown at the finals in November in Sydney.
ROTARY EXERCISE PARK
Gympie has a new exercise park donated by the Rotary Club. The trainees and trainers enjoyed a personalised exercise program and were shown how to use all the equipment by Coaches from the Real Body Movement Functional Training Studio.
Loads happening at Compass Caboolture River Road at the moment!
Summer has arrived early and the Trainee's have been enjoying travel training with a splash at the Petrie Mill.
Halloween shenanigans were in full swing on Friday with the day dedicated to all things spooky
" />.
Our cooking days are twice as nice now on a Tuesday, with some Trainee's cooking in house and some BBQING at our gorgeous Centenary Lakes in between kicking the footy around!
Our Zac had an awesome 1st Friday last week! A great acc
omplishment by his Support Workers, who work so very hard, creating new opportunities to explore with Zac.
Our shed of many uses is now insulated! There are exciting wood work projects by Trainee's happening guided by our Donna.
We wish to welcome Brent to our Trainer Team, who brings his passion for gardening and woodworking with him!
Keeping the water up for our blooming garden is a challenge! Soaker hoses in our garden beds are providing a more time efficient solution for the majority of our garden which includes: celery silver beet, lettuce, strawberries, rosella's, beets and herbs to name a few.
Wednesday is Dulux Day! A team from Bunnings will be training with Dulux by painting the outside of our Centre, Yay!!!!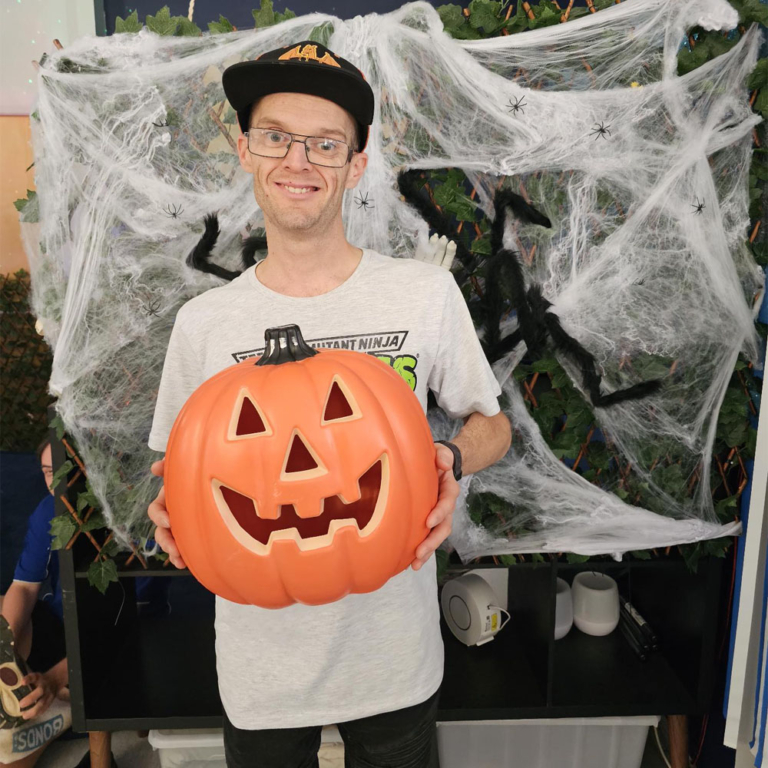 Hello everyone from all of us at Connections café's – as we move from winter into spring it only seems fitting that we say goodbye to some of our family and welcome new members into our Compass family.
Let us start with the goodbye's – it is with a sad heart that we have lost two amazing members of the team to new adventures near and far. To James Scott and Maddy Kingdom I say thank you for all the effort you have put into your roles at Compass, we have known you for different lengths of time but you will both be missed in ways that are hard to put into words. It is with ease that I can say you both brought your own energy and joy to everyone that had the pleasure of spending even a second with you. Good luck and safe travels, who knows maybe one day we will see you again.
With loss comes the joy of new beginnings. It is a joy to welcome some new faces to the family and a pleasure to see a member of the team continue to grow and take on new roles within their role. It is always amazing to watch people grow and learn within our family. So it is with happy hearts that we welcome Lisa Costaganna to our Maroochydore space in her joint role of Barista/ support worker and look forward to Esther Bradshaw stepping into the trainer role at Nambour. I look forward to seeing how your new energies shape the cafes moving forward and I can already see in the short time I have spent with you that it is upwards from here.
We have also been able to welcome some new people into our café spaces. It is a pleasure to see our new trainees start to embrace what we do at the café's and how our existing crew are happy to help and assist at the start of their new journey. It is amazing to watch the family grow and embrace the opportunity we offer in the cafes. So again, with huge joy I say hello to the new members of the team.
At Nambour we have been joined by Bridgett Whittington – I have not had the pleasure of meeting Bridgett yet, but I have been hearing some amazing feedback from Esther as to how she is fitting into the space. I look forward to getting to meet her as soon as I can and get the chance to see her shine.
At Maroochydore we have been joined by Mathew Jones. I have had the pleasure of seeing Mathew around Compass and he is such an amazing person. It will be wonderful to watch him grow and embrace a new side of what Compass has to offer moving forward.
Also we've welcomed Charley Esher. Charley has such a wonderful energy and enthusiasm, he has come straight into the café and seems at home already. It has given all of us who work with him on Fridays (which can be a struggle on the last day of the week) a lift of energy.
Welcome on board
" />
It is a wonder that we have had time to do any work what with all these leaving and welcoming party's that we have had going on, but as you know our world does not stop when people leave or embark the ride.
Let us start with Maroochydore.
The amazing residents of the Avenue are continuing to show such love and support to what Compass has to offer and keep coming day after day to the café. Thank you all, it is lovely to see the ever-increasing bonds and friendships that they are developing with everyone at the café. We have had the pleasure of doing a mid-winter event for the residents. This would not have been possible without the help of Esther and Maddy. It was wonderful to see everyone dressed up and having an amazing time. We have also had another Fish and Chip night here at the café which is such a blast.
The residents also went out of their way to say a huge goodbye to Maddy. It was amazing to see how much impact that Compass, its staff and trainees have had in this space, only downside was we all had to wear silly hats for the day.
As we move into the end of the of the year our catering has started to ramp up, so a huge thank you to all the local business that are reaching out and using us for their events. Feel free to get in touch if you need any Christmas parties catered for, we are happy to see what we can do.
We are also starting to see more outside and walk-in people drop into the space. It is awesome to see the growth as we approach our first birthday early in November. The trainees continue to grow, learn and improve with every passing day and it is a pleasure to help them on their journey.
Let us check in with the team at Nambour and see what they have been up to over the last quarter.
Our catering collaboration with Shine is going from strength to strength, it is amazing to see people in the community recognising the two organisations working together to better the lives of people in the disability sector.
There has been a lot of catering for local organisation ECOlaboration over the last ¼. This local ecological service/educational company is based in Nambour, and it is wonderful to see them support other local businesses. We had the privilege to cater for their Koala Conservation Community Day which keeps everyone busy and on their toes.
Esther and I would like to extend a huge thank you to all the casual trainers that have helped at the café since James left to explore his new life. You have all been legends and brought a little bit of your magic to the space every day. They have given it their all and it has been our pleasure to welcome them.
We look forward to the rest of the year and feel free to drop in when you are in the area.
The Connections Team
We are very excited to have 3 new trainees, Brenton, Bridgett & Belinda join our Garden Café Team recently. A warm welcome to each of you, and also a big thank you for coming on board with such enthusiasm and effort.
Our other exciting news is that our "Bestest Barista" Amy, is expecting a baby. Everybody is enjoying this journey with Amy, and awaiting with anticipation to see if it is a boy or a girl. There is a poll on our fridge which is swaying heavily to a girl! We will await to see who is right…
They say it takes a village! And what a wonderful, kind village we have around us here at the Garden Café. With the generosity of some wonderful local ladies from The Makers Perspective, a group of Ceramic Artists, and the Mooloolaba Lions Club, we have been able to purchase some beautiful outdoor black and white umbrellas to help shade our table area. This will be a game changer for the upcoming summer heat for our customers. It has also been made possible by the skill of the Volunteers from the Friends of Maroochy Botanic Gardens. They have kindly laid the cement slabs and constructed the pots to install the bases for our umbrellas. Photo's of the finished product next newsletter!
Recently one of our lovely customers shared their appreciation with us by bringing in a beautiful single rose for each of us. They said that they wanted us to know that we made them very happy and wanted us to know we were special. That's that amazing village in all it's glory again!
Harvest Kitchen has had a great few months! We have been creating new food specials and will be realising our 2023 Summer menu in the coming weeks. We have had many groups come to visit for morning tea with the amazing customer service from HK trainees. We have also utilised our farm fresh produce in our jams and chutneys.
Over the last few months Harvest Kitchen has prepared sweet and savoury platters for our guest groups. We have had a variety of people visit Compass Farm recently, with the trainees welcoming them with their beautiful customer service skills, smiling faces and a Harvest Kitchen made morning tea. The team has farewelled Sandra and Wendy by making pizzas and decorating cupcakes and their heartfelt messages.
Harvest Kitchen has taken a green approach to their packing and wrapping of hampers. We have recently invested in an industrial cardboard shredder. This will allow us to reduce our cardboard waste and repurpose it into box lining for our hampers. We will also be transitioning into a plastic free wrapping approach coming into the new year. Keep an eye out for our new and improved hampers that are eco-friendly!
Harvest Kitchen has seen an abundance of fresh produce coming from the farm. We have been loving using the blueberries, mulberries, ginger and more to create new and tasty recipes. Harvest Kitchen has a busy time ahead creating new menu items, 150+ Christmas hampers to make and preparing for our Halloween and Christmas celebrations.
Compass Café at Caloundra City Autos
Compass Café is gearing up for our 2nd birthday on the 1st of November. How time flies!! Josh and I are super proud of our hard working trainees.
Compass Café welcomes 2 new trainees this quarter – Brenton and Pieta are settling in nicely.
You can see a picture of Brenton in his new Compass shirt.
Luke is pictured with a sample of a possible new summer lunch special
Quiche and salad.
Sarah is pictured learning the art of weighing and shaping meat patties for hamburgers and take a look at
some spooky Halloween treats.
Recently, some of the Wabi trainee's have been focusing on our job club booklets. This involves exploring possible areas of interest, careers and workplace types that trainees research and complete activities around. During these sessions we will explore job ready skills such as personal presentation, resume's, applying for jobs and what to expect in an interview.
We also are busy instore creating new items to sell, many of our creations have been Halloween themed and soon we will turn our focus to the Christmas period. Many different Christmas tree decorations and table toppers are in the works.
Our trainees have also been experimenting with acrylic resin earrings.
Pictured are a few of the creations, keep an eye out in store for these an many more.