Campus & Enterprise Updates
Our campuses and enterprises are always so full of activity, learning and joy and these are the stories that we love to share with you.
"Teamwork Makes the Dream Work" – one of the lines we hear from Farm Trainee Matthew Jones all the time. What hasn't the Farm Team done this quarter!? The biggest event so far has been the Farm's Celebrations of Compass' 20th Birthday. Everyone was invited to "Dress like a Farmer" and the day included the painting and decorating of a snake along the main entrance to the Farm. The Snake represents strength, creativity, and continuity, along with transformation and change. Friends and families of the Farm were invited to add their mark to the snake by decorating it with bright colours on the day.
The Farm Art team also put together a very clever scavenger hunt, which took all the participants on a scenic tour of the Farm to find all the cleverly hidden number 20's.
There was a feast for lunch of Sausages, Woodfired Pizzas, cakes in the shape of Bumble Bees and Homemade Jam Doughnuts (Thanks Guy)! Sooooo good!
We placed some commemorative items into a Time Capsule, including Compass photos, badges, HK Flavoured Salt and a strand from Valerie the horse' mane. This will be buried, and covered with a beautiful mosaic tile created by Farm Art to mark the spot, and dug up in 10 years time! Hopefully most of us will be around to see it again!
Finally, some of the trainees, in conjunction with Michael from Sunshine & Sons Distillery in Woombye, worked together to develop our very first Compass Gin. Farm Trainees Bella and Jono chose botanicals, which included fresh Rosemary, Lime and Lemongrass which were all grown on the Compass Farm. It was infused into the Sunshine and Sons Gin base, bottled and then given to Compass Farm Staff as a keepsake from the day.
The Farm Team are hoping to develop more Gin flavours over time so watch this space!
Now that the weather has cooled. Caloundra team have been busy working on refurbishment projects. Thank you to the woodwork team painting the front of the building and bathrooms.
Katie and the Gardening crew have been working their magic with a new hot house getting seedlings growing and the gardens looking refreshed.
Media Team have been out and about working on their photography skills.
To finish our week off Thursday afternoons is now about getting outside as a group. Mixing it up with outside games and Karaoke.
Our new Team Leader Liza commenced with Nambour Centre at the beginning of May. "I've really enjoyed getting to know the Trainees and staff and have been made feel very welcome"
I joined the team as Nambour celebrated Compass's 20th Anniversary with a super hero party.
Michael has moved into his new accommodation and has been putting the skills he has learnt at the centre into good practice. The team presented Michael with a care package as a welcome for his new home.
On Tuesdays we head out on the bus to Palmwoods lawn bowls club where wonderful volunteers John, Glenys and Jeff spend time teaching us accuracy skills. The trainees have lots of fun socialising and put their travel training skills to work catching the bus to and from Palmwoods.
Walking Warriors
Our Walking Warriors group spend their Thursdays exploring the beautiful walking tracks and surround on the Coast. They all work extremely hard to improve their fitness each week and are also building friendships and socialising. In the last month they have walked almost 25km or approximately 35,000 steps and when we totaled up the full year, we have walked 74.9km and 98,425 steps. Pretty impressive numbers!
The photo is the WW heading out to clean up Mudjimba Beach for World Turtle Day.
Chris Wilson interviewed David (another trainee) to see what he has thought of the latest movie releases.
David advised that he has been to see Guardians of the Galaxy and Spiderman across the Spider-Verse.
David advised that his favourite has to be Guardians as you got to find out where 'Rocket' came from and his friend Groot too.
David didn't like parts of the new Spiderman movie as the new Blue and Red Spiderman aka Miguel O'Hara "Spider-man 2099" who is a villain and is too mean to others.
David advised that he is going to see the new Flash and Transformers Rise of the Beasts movies in the holidays so we can't wait to hear about what he thinks of them.
Sports Day
What an amazing and great day! Every centre competed with enthusiasm and heart, and not one chest didn't have a prize ribbon attached. With four events of Hoop Toss, Pool Noodle relay, Shotput and the Sprint, the clear favourite was the Sprint where the trainees asked to run it again. And again.
We look forward to next year, where we are thinking of adding a 400m distance run as well as the Sprint. And a staff event as well!
Garden
The passion fruits have taken over the green house and have grown in abundance. Everyone is enjoying the harvest with fresh passion fruit nearly every day. And the trainees are hard at work researching different recipes to use them in.
Gympie will start a new venture in Social Enterprise by growing orchids in the green house, to sell to the community. We are looking forward to getting back into the garden and growing something new.
10 Year Anniversary
In conjunction with the Compass 20 year anniversary celebration, Gympie also celebrated our 10 year birthday anniversary.
Many of the staff and trainees dressed up in the theme of the Roaring '20's or 'Something fancy'.
We had a BBQ, cake, passion fruit tarts and passion fruit punch.
Many families of trainees and some of our friends from the community that we see weekly at a song and dance event, also came to join the celebrations with us.
It was a wonderful day filled with laughter, good food and of course, dancing!
Compass River Road has commenced its renovations these past two weeks. Thanks to the staff and their combined strategies; the wonderful team has been constantly entertaining whilst diverting any possible nerves that may arise. The trainees are now feeling the excitement over the new changes that are being made.
We have also begun the "Gardening and Healthy Eating Project" onsite at River Road. The team from Compass Caloundra graciously gave up their time and energy to smash out almost all of the project alongside the River Road team.
We have had all the trainees enthralled with cement trucks, dirt tip trucks and the convoy of both old friends, new friends and strangers all pitching in to help in any way they can. Currently, we have all our gardening beds up and ready for planting. All of the trees were planted with love and care ready to grow and sprout some fruit to help our initiative of healthy eating.
Over at Compass Tafe, they recently celebrated the Compass 20th birthday by showcasing their outstanding Aikido to family and staff. We are grateful to everyone who were able to join us in celebrating Compass's 20th anniversary.
Hello from the Two teams at the connection's cafés.
Wow I cannot believe that we are almost halfway through this year already, we have had another busy 1/4.
First off let check in with the team at Nambour, the team have been smashing it out of the park.
We have had a lot of catering going on with some of our regular customer's having a few weeks needing catering a few days a week. As always thank you for keeping on using connections for catering.
Along with the farm we also had our yearly visit from the lovely residents of the Buderim Gardens, we look forward to their visit, the team were on point this year, and everyone left with a full stomach and a smile on their face
I am always amazed how well the team are going at Nambour as I am mainly based in Maroochydore, it is lovely to drop in their and see how everyone is progressing in their roles young and old.
Let us check in with the goings on at Maroochydore
Our lovely residents are continuing to keep us busy and it is lovely to see many of them having chats and forming bonds with the trainees.
We are starting to get a few people using this location for catering event which is keeping us busy and letting us flex some of our creative muscles with new and exciting flavours.
To celebrate Compass Birthday our Wednesday team came up with a couple of new slices to try out, thanks to Cavell, Sophie and Tohbais for their ideas and inputs in getting this done. The first was a pumpkin slice and then we followed it up with Treacle slice.
As we move into the next quarter and look forward to our upcoming open days if anyone has any sweet treat ideas that they would like us to give a go, we are up for the challenge.
Enjoy the winter and stay warm from all at the connections café's
Happy half of 2023! When reflecting, I often think, we've just been doing what we do. However, as I do this newsletter and go back through photo's, I realise what a busy and productive time we have had the last few weeks, and most importantly reflect on the incredible progress that the trainees are making – both individually, and cohesively as a team.
We've done a few bigger catering jobs, as well as hosted a few big groups – some up to 35 people. We've now got some regular groups who come weekly, and monthly, to generally chit chat – as friends, or mums and bubs, to knit & craft together, to bush walk together etc. These groups return because of the connection they have built with the trainees. There is also a monthly rotating art space in our building. We get to know these artists well, and often have the chance to get actively involved with their medium. Below is a photo of Renee learning, and mastering weaving on a loom with the artist. The engagement opportunities are amazing with the community here at the Garden Café, and this is what I love about our space, we build skill and community, and showcase the individual abilities of our trainees.
Recently there have been some notable achievements. Sam Davis – Taking complete control of our monthly Rolly Polly Group, taking their orders at the table (due to their mobility), giving direction to assemble orders to his peers, and keeping control – ensuring orders go to the right people. Ariana Carter – Now able to cash up the till at the end of the day. Counting the money with great care and accuracy. And also, mastering the making of scones. 100% independently! Claire Ostrovski – Claire has absolutely blossomed across all areas of the café in the last 6 months. As a result, she has now gained 1 day's employment in a café in the community. Everybody is amazing of course!
As always, a great big shout out and thank you to our generous volunteers – Shelly, Trish, Faye and Karen. You are valued immensely. And also our wonderful casual Janelle!
Harvest Kitchen has had another busy, yet wonderful few months! We have been constantly creating menu specials, new flavours of produce as well as hosting plenty of visiting groups.
Over the last few months Harvest Kitchen has prepared sweet and savoury platters for our visitors. We have had many groups come to visit Compass Farm recently, with the trainees welcoming the visitors with their beautiful customer service skills and smiling faces. HK also catered for the Farms 20th Birthday celebrations with pizza, sausage sizzle, cookies & cake.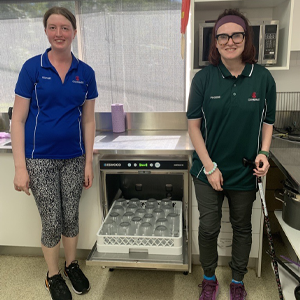 Harvest Kitchen has been lucky enough to receive a grant from the Crosby Foundation for a new Industrial Dishwasher. The team are excited and love their new dishwasher. It has halved our cleaning up time and does a single load in only 2 minutes!! Thank you to all the trades who were a part of the installation process.
With the weather cooling down, our hot drink sales have increased. Some of the Harvest Kitchen trainees are becoming more independent in preparing drinks, learning how to pour that perfect shot and steam milk. Harvest Kitchen has now added hot Milo's to the menu for everyone to enjoy this winter, for only $3.
Harvest Kitchen has put their minds together to create a new 2023 winter menu. Featuring some warm curries, woodfired pizzas and the classic ham & cheese toastie… but with a twist. New specials will appear each day and the Thursday sweet treats remain on the menu. Harvest Kitchen is collaborating with Compass Multimedia to put together a cookbook. Harvest Kitchen will be trialing these recipes over the coming months to ensure that they taste the absolute best before featuring in the book. If you have any requests for a lunch special, please let one of the HK team know, we welcome new ideas!
We would like to officially welcome our newest Trainer to the team. Naomi has recently covered 6 weeks of leave in Harvest Kitchen creating lunches. We enjoyed having her around so much that we have now made her a permanent part of the team on a Tuesday. We look forward to having you on board.
Compass Café at Caloundra City Autos
Compass Café now has Hot Dogs for sale, picture is Morgan very excited to try one. Mini burgers or sliders, ham cheese and tomato with baby spinach. Yummy!!! Picture included is of one very happy customer.
Update on our latte art challenge – some beautiful coffees are being served as you can see in the picture of Luke with a love heart. Coffees are judged by time it takes to make the coffee, taste of the coffee and temperature and finally the art on top.
The winner of the challenge receives a certificate of excellence and acknowledgement with a plaque up on our wall.
All month Compass Café has been decorating our cookies with celebrations for 20th birthday and our customers are loving them!
Looking forward, the Compass Café welcomes the colder weather with a very special hot chocolate and some hot healthy soup on our winter menu.
Next month Wabi Sabi Creations (Nambour) turns 2!
It has been 2 years since Wabi moved into our current location in Nambour. Help us celebrate by dropping in through the month of July to support us and in turn, create opportunities for the trainees to hone their customer service and retail skills.
Recently in Wabi Sabi, Trainees have been working towards their understanding of Formal Language in the workplace. This areas focus is to develop their communication/soft skills and awareness of appropriate use of language.
We do this by interacting with customers and role playing scenarios to develop their confidence in a calm and supported retail setting. Each new customer is an opportunity to work on this and practice their skills for processing sales.
Our enterprises utilise industry standard technology and Point of Sale systems (Square) This provides trainees with current, real world experience through relevant training and access to systems and industry best practice.
This are just a small part of our larger retail program. Below is a full breakdown of the Wabi Sabi Training areas that we work on throughout the year.
POS Operation (software training, till operation)
Banking & Cash Handling (Banking procedure, counting/recognising denominations, processing cash sales)
Visual Merchandising (store layout and arranging displays)
Stock management (pricing, tagging, processing deliveries, stock counts and adjustments)
Customer Service (Communication, Initiate and hold 2 way conversations, Soft skills, Processing Sales)
Cleaning (Shop maintenance, cleaning, managing kitchen/store room)
Reading and Writing (Text literacy and Numeracy, money skills)
Community Access/Interaction through market days
Create-a-space (Woodworking, Arts/Craft, Jewellery Making, Planting and Horticulture)
Occupational Health and Safety (OH&S) – Safe work methods, personal safety, workplace training and awareness
Training in these areas supports trainees in the development of Communication, Social Interaction, Self-Management, Learning, Self-Care and Capacity Building.
Thank you for your support over these last 2 years as we look ahead to the future journey of our Trainees, Wabi Sabi and Compass.