VOLUNTEER TO HELP RAISE OUR PUPPIES!
Volunteers play a vital role in the Compass Assistance Dogs Program and have done since the very beginning. In fact, our entire program was founded and led by volunteers for its first two years of operation! Our two specialist trainers, with over 60 years of combined service dog training experience between them, volunteered their time to help Compass build, test and trial the program, which has led us to where we are today.
The successful model that we have established has the local community at its heart. Throughout the two years that our puppies are with Compass while we prepare them for their important mission, we call on volunteers to help raise and care for them. This is done by placing the pups with volunteers inside their homes – in the first 12-18 months of their life, they will be with a volunteer Puppy Raiser, and in the last 6 months before being placed with a child, they will be with a volunteer Training Dog Carer. Our specialist trainers work very closely with our volunteers and the puppies throughout this entire period.
We have found that this is the best model to ensure the puppies are exposed to everyday environments and scenarios that they are going to be faced with once they are placed in their forever home. So far, we have had an exceptionally high success rate (>90%!) and we strongly believe that our community-based volunteer model plays a big part in that!
Read more below on how you can become a Volunteer Puppy Raiser or Training Dog Carer.
PUPPY RAISERS
As a Volunteer Puppy Raiser, you enjoy the benefits of nurturing a young puppy through the first 12-18 months of its life in your own home. You will be fully supported by a specialist Trainer in our Compass Assistance Dogs team to make sure you have everything you need to help the pup learn the essentials and stay healthy and happy.
Through this time, you will receive regular visits by the Compass Assistance Dogs team, but for the majority of the time, you will be raising the pup and taking it with you on excursions in the community as you go about your daily life.
Throughout this period, all costs of raising the puppy will be covered by The Compass Institute.
TRAINING DOG CARERS
As a Volunteer Training Dog Carer, you will have the opportunity to take over from our Volunteer Puppy Raisers and support the now-adult dog in your home, while they undergo their specialist Assistance Dog training. Training typically goes for approximately six months and is the most integral part of their development as an Assistance Dog. This is where they learn all of the essential skills for what it takes to fulfil their important mission.
The puppies are typically teenagers at this stage – they know what to do, they just need guidance and gentle reminders in order to maintain the basic training they previously received as puppies. Throughout this time, our specialist Compass Assistance Dog Trainer will come to your home to pick up and drop off the dog for training during the days, and bring them back to be with you at all other times until they graduate and are ready to be placed with a child in the community.
TESTIMONIALS FROM SOME OF OUR VOLUNTEERS
Michelle, Volunteer Puppy Raiser
"I have been a Volunteer Puppy Raiser with Compass since its inception in 2016. I wake up every morning excited about what the day will bring and how I can help this pup reach its full potential as a Compass Assistance Dog, and I go to bed at night content that I am working to make a difference. All it takes is one year of my life to raise this puppy – and once placed with a child as a fully trained Assistance Dog, it will help transform this child's entire life trajectory, together with his or her family. The training, support and care I receive from the Compass Training Managers is paramount to my success as a Puppy Raiser, and I couldn't do it with them by my side. I love my work and I feel honoured to have been selected as a Puppy Raiser for Compass."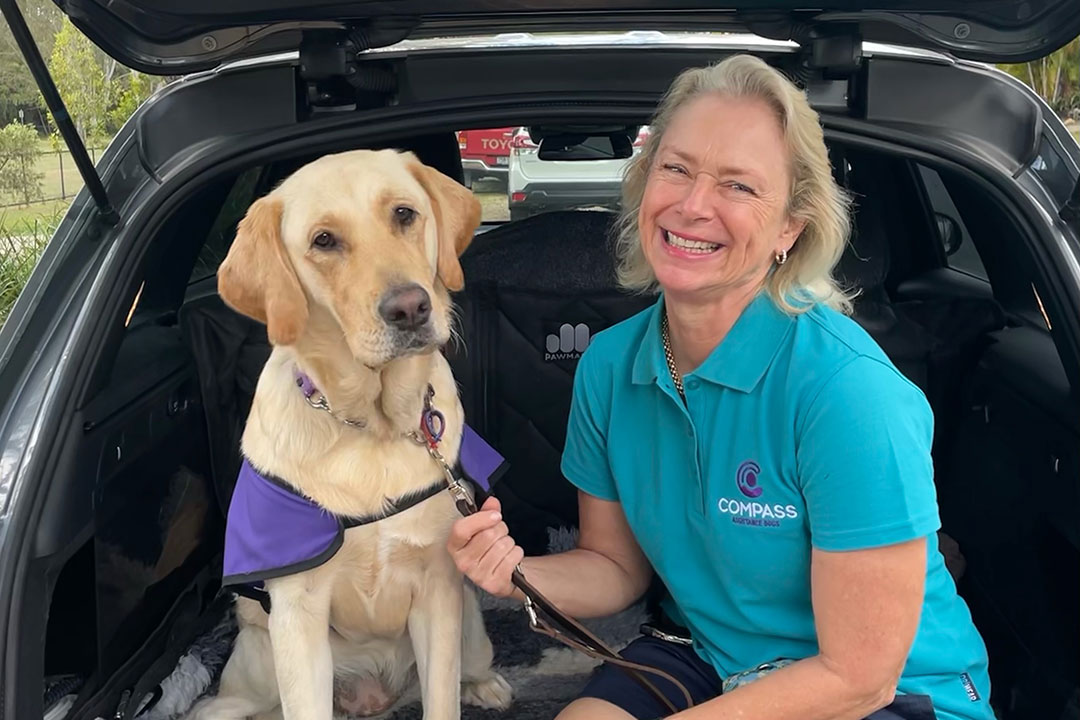 Lynne, Volunteer Puppy Raiser
"I have been a Volunteer Puppy Raiser with Compass for just over two years now and have thoroughly enjoyed my experience. Prior to joining, I had seen my friend raise puppies for Compass for many years. It was wonderful to see the puppies' development as an Assistant Dog and to hear of their ultimate placement with a child in need. Having fostered a child with special needs, I am aware of the joy and peace an animal can bring. It has been, and continues to be, an absolute privilege to volunteer for the Compass Assistance Dogs Program. I have felt constantly supported throughout my entire time with Compass – we are mentored and guided in all aspects of the role. As it is a quite a small program, we are updated as to the progress of our puppy as they move on to live with, and care for, their chosen child and family. Being a part of a puppy's growth, knowing that they will move on to make a meaningful change in someone's life, however small, is worth every minute of volunteering."
Find out more
Thank you for considering becoming a Volunteer Puppy Raiser or Training Dog Carer – it's an incredibly important job!
To register your interest and find out more, please complete the application form below.
Our team will be in touch to confirm we have received your application and to provide further details.